"My Pantanal"
December 1, 2010
If you're in the L.A. area on December 4, 2010, check out "My Pantanal", directed by my friend Andrea Heydlauff. Click the link below for ticket information.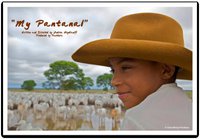 My Pantanal
Saturday, Dec 4, 2010 at 2PM
Synopsis:
'My Pantanal' is a film about a boy named Aerenilso, who lives on a ranch in the Pantanal, the world's largest and wildest wetland, in Brazil. Aerenilso shows us what it is like to be a Pantanero (a cowboy), riding his horse, doing his chores, and exploring this incredible landscape that is teeming with wildlife, including the jaguar. Sadly, jaguars have been hunted by people but Aerenilso's ranch is different; he lives on a conservation ranch where the cowboys and biologists are working together to show that ranching and jaguars can coexist in this magical place.
http://storyofbottledwatermypantanalcampesinos.eventbrite.com/